Frank K. Warnock (1916-2000)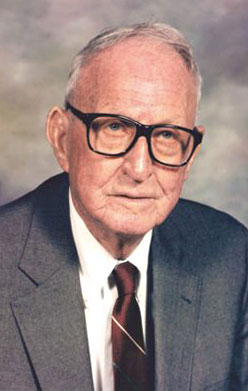 Frank K. Warnock was the son of a farmer and the sixth generation to be born and raised in Greenup County Kentucky.
He was the first member of his family to graduate from college and obtain a professional degree. He graduated from the University of Kentucky and then served as an officer in the United States Navy during World War II in the combat areas of the Atlantic and the Mediterranean theatre. Upon discharge from the service he attended the University of Kentucky College of Law and graduated as the member of the Kentucky Law Review and Order of the Coif.
Frank returned to Greenup County, Kentucky in 1951 and began his practice of law, which spanned over 40 years of providing legal service to the people of Greenup, Boyd, Lewis and Carter counties until he retired in 1997. He was active in community affairs, civic organizations and his beloved Greenup Christian Church. He enjoyed golf and was involved in real estate development in a wide range of areas in Greenup County.
His son Frank Hill Warnock returned to Greenup County in 1974 to join his father in the practice of law and in 1975 they founded the firm of Warnock and Warnock that continues today to furnish the same standard of representation and commitment in providing quality legal services to the area.